Implementing Shared Governance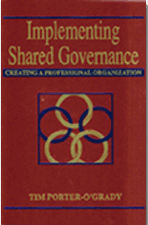 Implementing Shared Governance Creating a Professional Organization
Click here to download a zip file of the entire book.
This web-based implementation book is designed to provide a broad cross-section of information for those clinical leaders seeking to implement shared governance. While nurses are the focus of the processes outlined in this book, the principles are appropriate to all disciplines and work roles.
The chapters contained in this web-book are relevant to all stages of development. However, if you have further questions or have developmental needs related to implementing shared governance please contact Tim Porter O'Grady Associates, Inc. at 404-892-8494 or e-mail us atinfo@tpogassociates.com