Shared Governance Teambook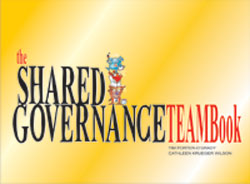 Shared Governance TeamBook
Click here to download a zip file of the entire book.
This web-based team management book is designed to provide practical and applicable support to all level of shared governance leaders working in teams or group process. Whether you are working with councils, task forces, workgroups or other collective activities, this Teambook will provide the practical and useful tools that you need to facilitate and manage great group process. The chapters and sections contained in this web-book are useful for almost any group activities you might confront in your leadership role. We have tried to make sure that every group process activity or contingency can be addressed with the assistance of this web-based book. As with the other texts on this site, feel free to download and use any and all of the material you find helpful in your leadership. However, if you have further questions or have developmental needs related to the use or application of anything in the Teambook please contact Tim Porter-O'Grady Associates Inc. at 404-892-8494 or e-mail us at info@tpogassociates.com.