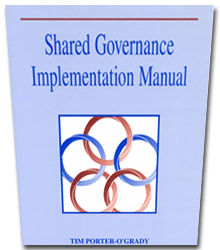 Shared Governance Implementation Manual
Click here to download a zip file of the entire book.
This implementation manual for shared governance is made available to all those who are in the process of implementing a shared decision-making model in their organization. Please feel free to review this manual at your convenience and to download any portion of this manual that you will find helpful to you as you undertake your own implementation process while this manual is not in any way an intensive discussion of implementation processes it does contain several hints that will be helpful to you as you explore the implementation process for shared governance in your own organization.
If you require further information and assistance in implementation of shared decision making in your organization, please refer to other reference material on this web site. or go to your Internet browser and enter the term "shared governance" or Porter-O'Grady" and more reference material will be available to you.
If you need advice or assistance in the implementation of your shared decision-making approach please feel free to contact us here at Tim Porter-O'Grady Associates, Inc. You can contact us by telephone at 706-746-7575 or be emailing us at info@tpogassociates.com and we will be happy to assist you with your implementation process. We wish you the best as you explore the implementation of shared decision-making processes that fully engage your colleagues in decisions that affect their practice and ultimately impact high quality patient care.